Flowtech Water Solutions Celebrates 25th Anniversary
Years Combined Experience
Flowtech Launch Training Academy
"The Flowtech Water Solutions Training Academy will be providing it's staff with on going training we have been working hard so we can introduce Training Modules on all things Water Boosting, Pressurisation, Water Storage, Systems and much more when staff have completed each module they will receive a very exclusive Flowtech Water Solutions certificate !!"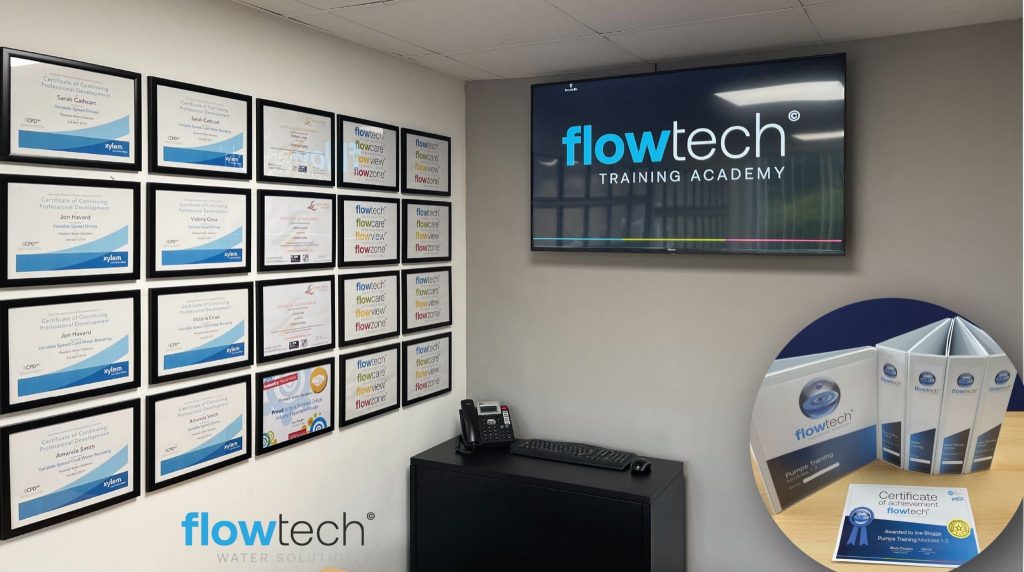 Flowtech Hits Record Sales Month!
We are delighted to announce that we have yet again beaten our record sales month! Back in March 2021 we reached our highest sales month in the company's history, and after continuing to work hard through the Covid-19 pandemic we have again raised the bar and set ourselves a new sales record!
Flowtech Launch New Website
Flowtech Water Solutions have launched their new website and rebrand in 2021. The new easy to use website shows customers our new branding, product catalogue and our new flowzone that contains updated product data sheets and O&M manuals.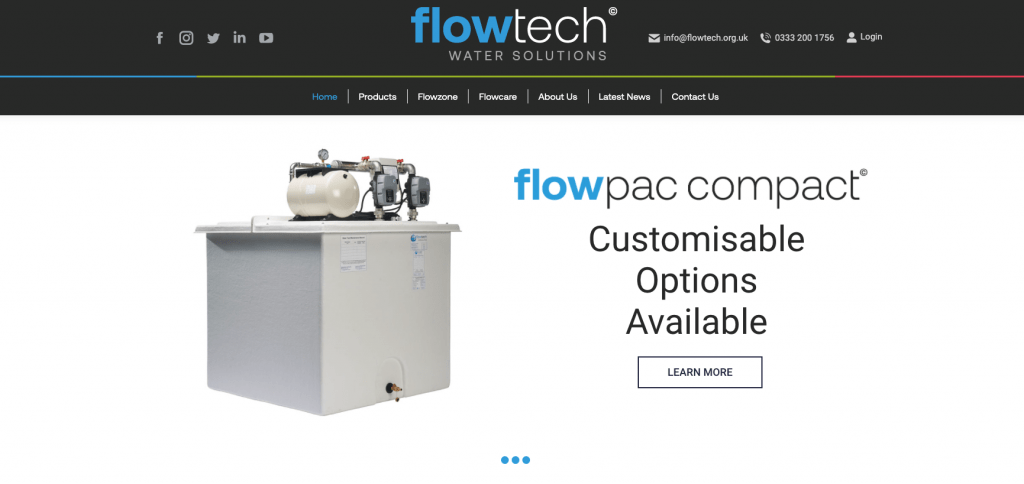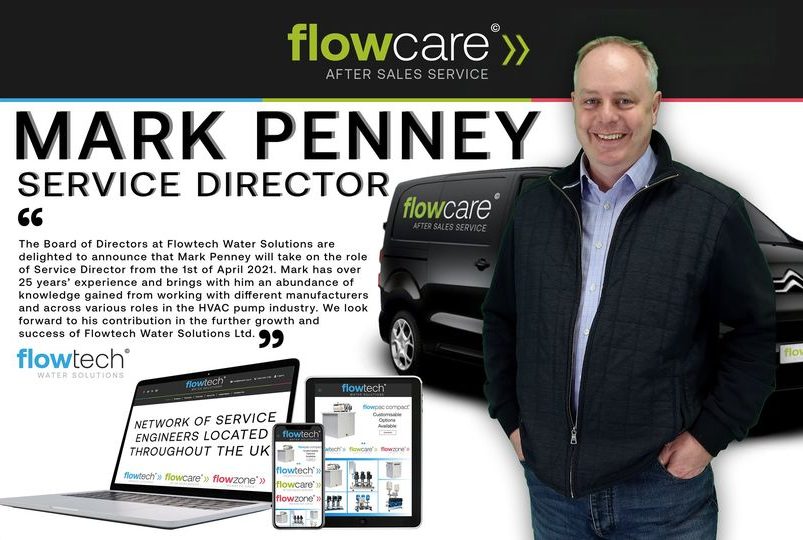 Mark Penney - Service Director
The Board of Directors at Flowtech Water Solutions are delighted to announce that Mark Penney will take on the role of Service Director from the 1st of April 2021.
Mark has over 25 years' experience and brings with him an abundance of knowledge gained from working with different manufacturers and across various roles in the HVAC pump industry. We look forward to his contribution in the further growth and success of Flowtech Water Solutions Ltd.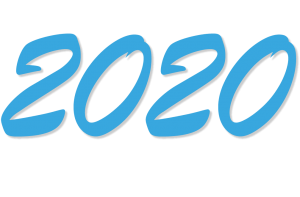 Pump Industry Awards FINALISTS
We are proud to announce that we have been selected as a Pump Industry Award 2020 finalist for the Pump Distributor of the Year category!
Yesterday the Judging Panel that included independent experts, representation from the press and sponsoring companies at the PI Awards spent the whole day analysing and discussing every entry to decide on the shortlist. It was a rigorous process but we are pleased to announce we are in the finals!
Online voting opens Wednesday 19th February on the Pump Industry Awards website. The overall ranking as established by the Judging Panel, coupled with the final number of votes received from supporters will determine the winners. We would be extremely grateful for your vote to help us achieve this fantastic award.
Facebook – 31/1/20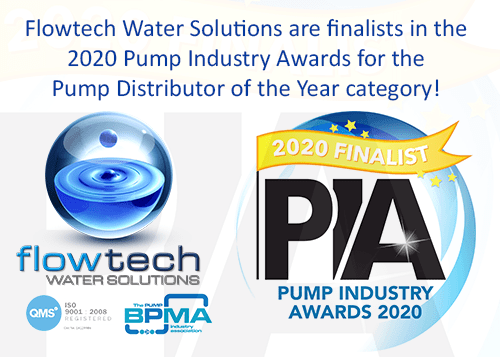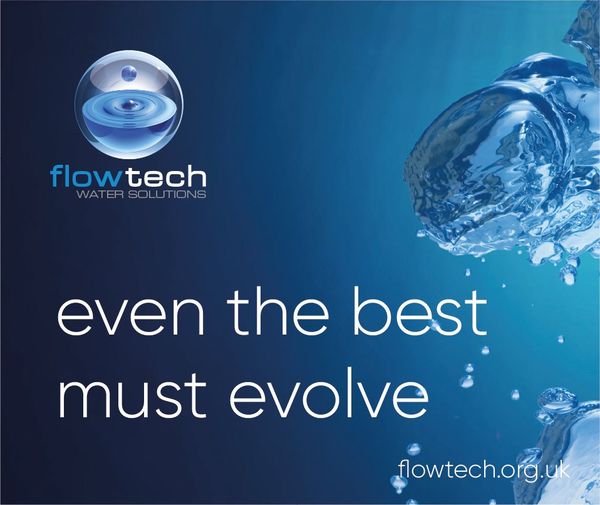 Flowtech to Launch New Website and Branding
Something new is lurking just beneath the surface. The UK's leading Water Solutions Specialists and Pump Industry Awards finalists for 2020, 'Flowtech' are undergoing a little evolution of our own. Our fresh new brand and website will be with you very soon, but in the meantime, don't hesitate to contact us via all the usual channels should you require our services.
Facebook – 25/2/20
Flowtech Opens New Wigan Office
Flowtech Water Solutions continue with their expansion plans by moving to new premises, an 11000 sqft unit based in Wigan just of the M6 motorway at junction 25.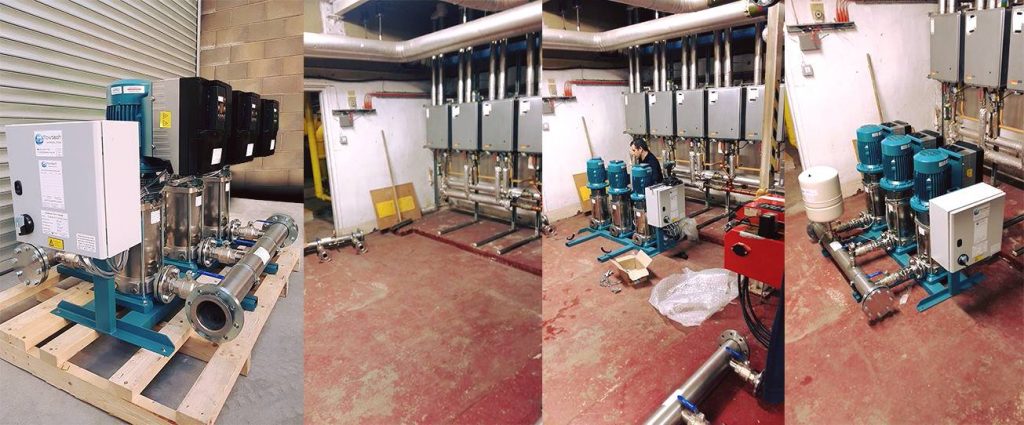 Flowtech Expands Service Department
Flowtech Water Solutions have expanded their service department to 4 service engineers covering the uk. The distribution of engineers means that in the majority of cases we are less than 4 hours away from attending a customer call out.
New Test Rig and Training Area
2018 saw further growth, moving our Wigan operations to a larger industrial unit on Cricket Street.
The addition of a second building and testing facility, along with drastically increased levels of stock enabled Flowtech to continue expanding.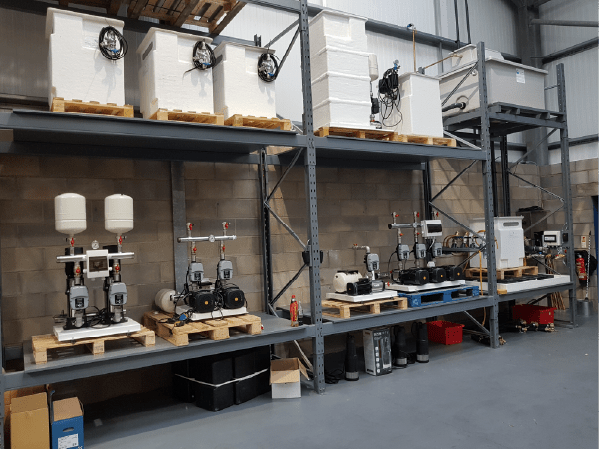 Flowtech Opens New Sales Office
In 2017 Flowtech Water Solutions opened their new sales office, warehouse/workshop in Wigan.
In 2017 Flowtech opened their new sales office, warehouse/workshop in Wigan. The 5000 sq. feet unit also houses our trade counter and stock of booster sets, tanks, pumps and ancillaries. Production of a vast range of equipment is also carried out at the purpose made facility. Our new premises are sited more centrally to the hub of the North West which will allow us to supply and support our existing customer base and new clients.
Due to the excellent transport links and availability of stock we should always be able to cater for our clients' needs whether the goods are to be collected or delivered by ourselves.
Flowtech Water Solutions Welcome HND Students
Flowtech Water Solutions are currently enjoying the company of two work placement students, both of whom are working hard to achieve Higher National Diploma (HND) qualifications.
Working with students in Higher Education is of direct and immediate benefit to all concerned, fostering important relationships between students, educational establishments and industry. Flowtech take part in the scheme to ensure that these relationships are well established and that students have access to real-life, relevant work situations to prepare them for after graduation.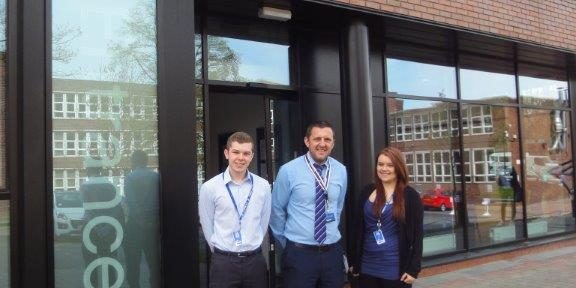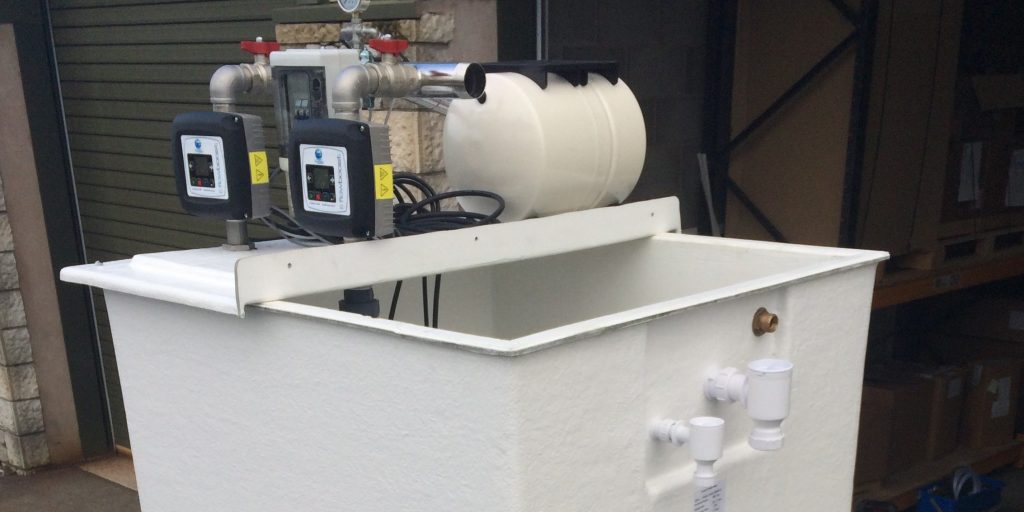 Flowtech Launch New Compact Booster Set
New Space Saving Cold Water Booster Set
The Flowpac Compact range of booster sets offer space saving solutions for boosting water in large domestic and commercial premises. Available with AG Air Gap for portable applications and AB Air Gap for CAT5 applications.

Standard tank sizes from* 600 litres (will fit through standard doorway) to 2000 litres with other sizes on applications.
Space Saving
Quiet Running, less than 45dba
Inverter Driven
High Efficiency
2 Year Guarantee 
New Flowtech Training Room
Flowtech Water Solutions would like to introduce you to the new Training Room, specially built for customers to visit and see up to date working booster, pressurisation and heating pump models.
Flowtech Water Solutions have invested in there up to date training room, with working booster and pressurisation equipment.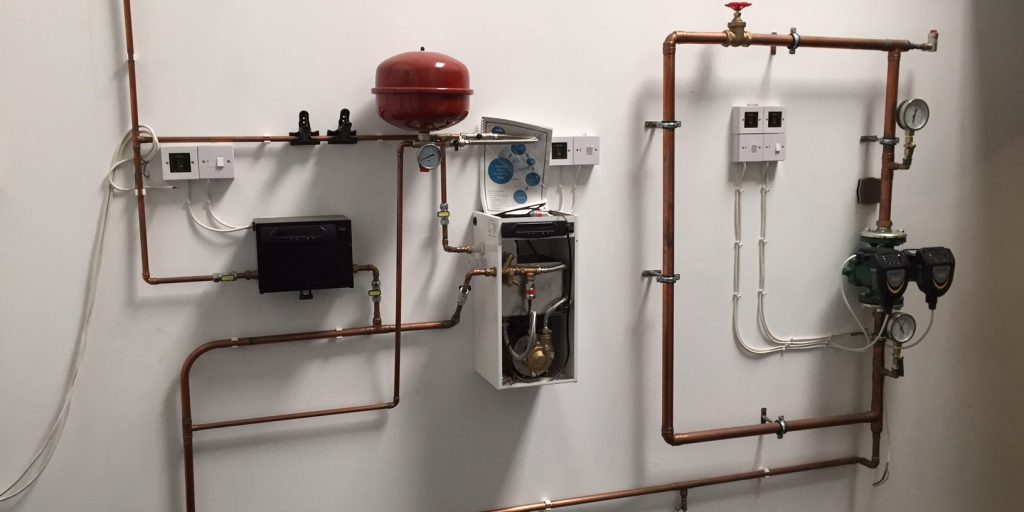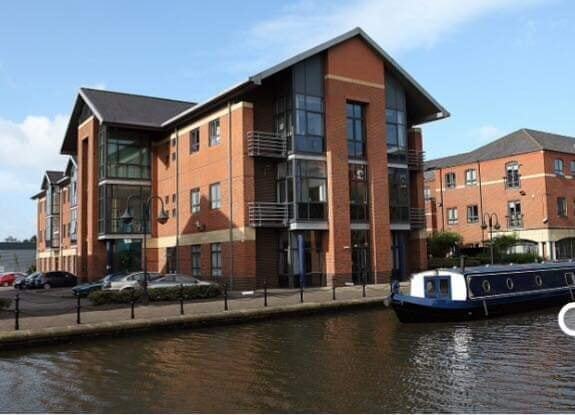 Flowtech Expands Wigan Sales Office
With the company growing larger and adding more staff to our fast growing team, in 2014 Flowtech moved their Wigan sales office into a larger suite within the Wigan Investment Centre. 
New Website Launch - 2013
In 2013 Flowtech Launched their new website. The Website included a Product Catalogue, Downloads section and our latest news.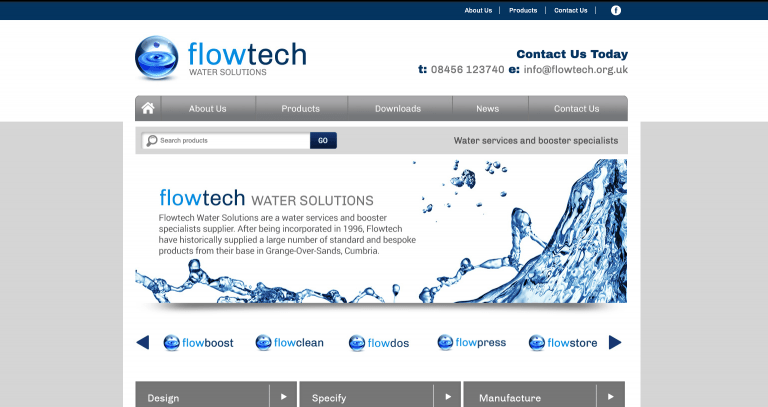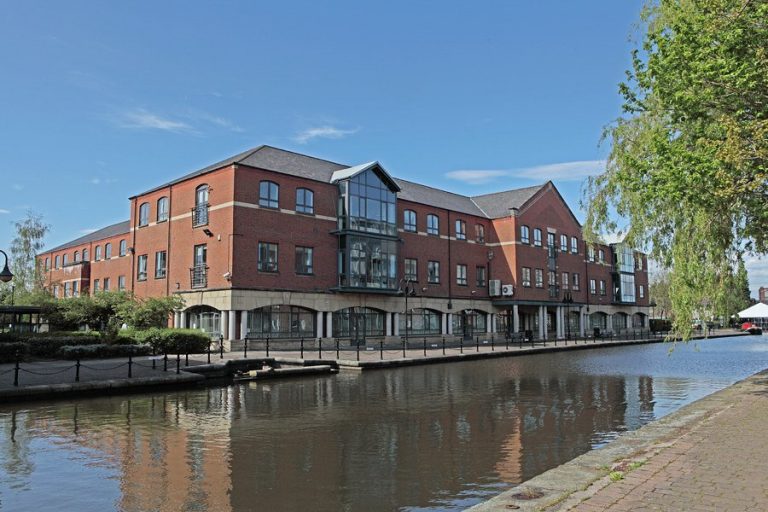 Flowtech Opens Wigan Sales Office
In 2013 Flowtech Water Solutions opened a sales office in the Wigan Investment Centre.
Flowtech Open Flookburgh Office - 2010
In 2010 Flowtech underwent a massive transformation with additions to the management structure and movement of their base to a purpose made unit in Flookburgh, Cumbria. Significant investment has been made to bring the company forward and up to date with current industry requirements.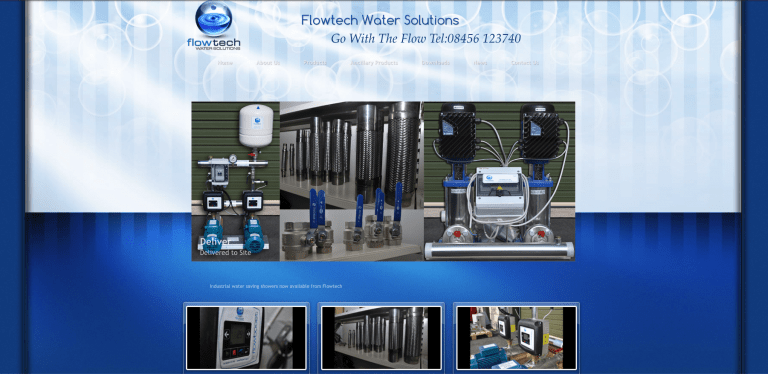 Flowtech Water Solutions launch new website! This is our first website that shows users our product range, latest news and product download information.