Flowtech Water Solutions are experts in water services and water booster sets. We have continuously supplied a wide range of standard and custom products since being founded in 1996.
Now established as a major force in the market. Flowtech Water Solutions partner nationally with local councils, design engineers, mechanical contractors, developers, and end users.
The company has a strong customer service ethos that has been shown in previous projects and are able to respond quickly to whatever our client's requirements are. Flowtech Water Solutions will handle projects from initial enquiry/tender to design and through to order placement and on site commissioning followed by an annual maintenance contract if required.
Many projects are designed in house and are engineered to incorporate requirements for space, noise, and maintenance. We also provide a site survey service to ensure that all supplied products are suitable. Whatever product or service is required, we will ensure you're in safe hands.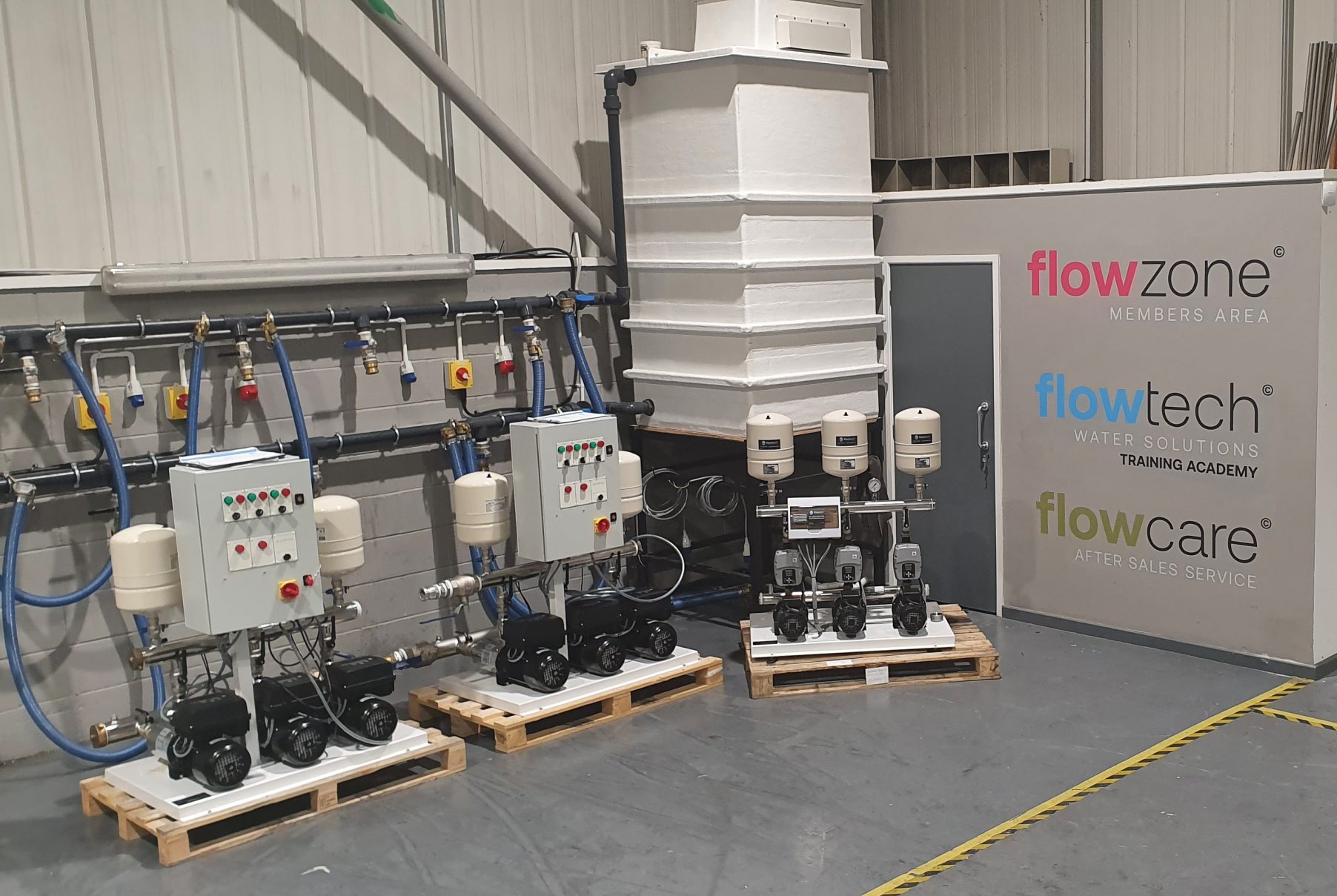 Flowtech Water Solutions have undergone a dramatic transformation in recent times. The company is based on a firm ethos of customer care, engineering excellence and maintaining a solid reputation. Whether it be design, manufacture or merely providing solutions as a distributor, we remain focused on customer satisfaction. Our implementation of standards through ISO 9001, UKCA Marking and training, show our dedication to providing not just a solution but one that encompasses all considerations with energy, environmental, efficiency and a reliable product at the forefront. Our approach is backed up with comprehensive warranty and reactive abilities that set us apart from others.
From 2010 to 2019 saw development of their existing production facility in Flookburgh, Cumbria. With a serviced sales office in Wigan from 2014.
In 2017, Flowtech was able to improve its market potential by opening a large-scale production facility housing stock for pumps, booster sets and associated equipment. In 2019 we moved into a 11,000 sq ft unit on Wheatlea Industrial Estate in Wigan.
Flowtech Water Solutions have a fully equipped training rig, allowing us to carry out rigorous testing of new products before they are made available for general sale on the market. We have the facility to continuously run and test products for performance monitoring, including booster sets, pressurisation units and pumps.
This is also used on a regular basis for training internal and external staff, to ensure that they are knowledgeable about the products we manufacture and distribute.